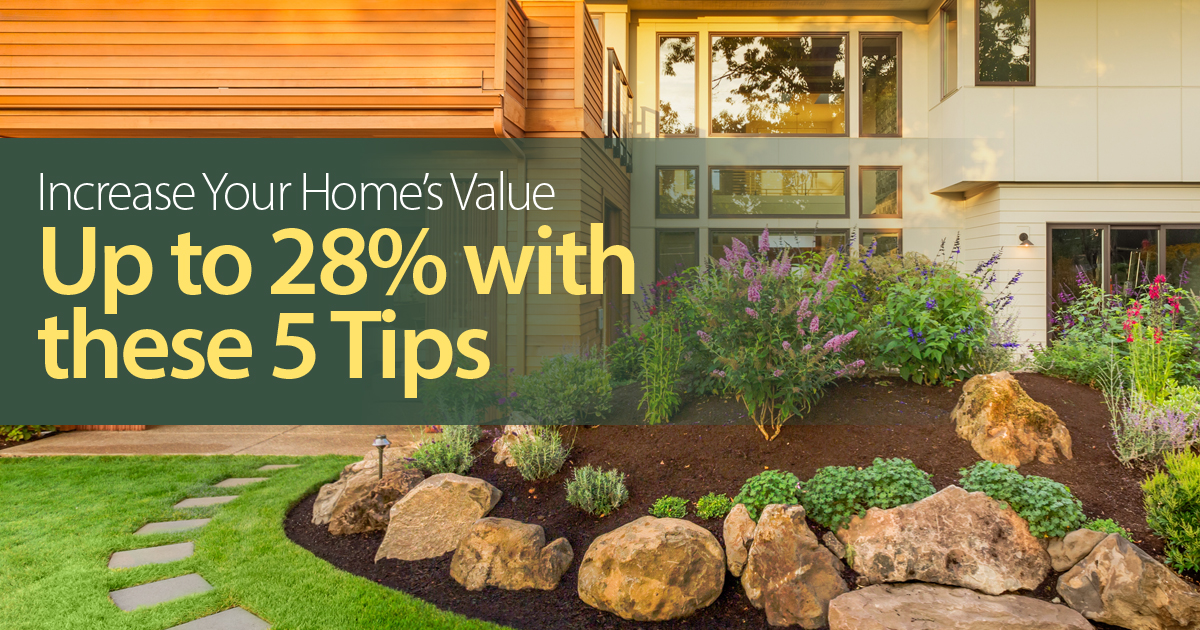 Increase Your Home's Value Up to 28% with These 5 Tips
05 Apr 2017 by Peggy Elias Arizona REALTOR® with HomeSmart
Great curb appeal not only makes your Glendale home the star of the neighborhood, it can also improve its value and help you sell it for more. Whether you're thinking of listing your Sands Oasis, Chaparral Ranch or Santa Maria Glendale AZ home or just want to make your home the envy of your neighbors, here are several ways to increase your Arizona home's curb appeal.
1. Make your Glendale AZ or West Valley home's exterior look like new.
For many potential buyers, the condition of the exterior of a home can offer clues to the condition of the interior. The first place to start when boosting curb appeal is the exterior of your house. Many buyers drive past a home before ever contacting their REALTOR®. Other times, when they pull up to see the home they are turned off by the exterior and decide they no longer want to view the inside. How do you get "great curb appeal"?
Paint. Paint is the best way to make your Arizona home appear newer. While you can paint your home yourself, if it's large or more than one story, consider hiring a professional. Painting is a fairly inexpensive improvement with between 60 to 100 percent return on investment.1
Paint or replace garage doors. If your garage doors are in good condition, give them a new coat of paint and check out the front entry door, also. If they're beginning to show their age, consider replacing them. Not only are new garage doors more energy efficient and better insulated than older models, they also have a 91.5 percent return on investment.1
Maintain your fencing and landscape. Replace rotted or worn posts and panels and freshen it up with a coat of paint, if you have block fencing be sure all the end caps are in place. If you have a hedge that serves as your property's border, keep it trimmed and in good shape. Neat and clean really is the overall goal when you are considering selling your Arizona Home.
Do you wonder about your Arizona Home Value? Ask me about recent sales in your community via text at 602-422-5444.
2. Pay attention to the small details.
The small details tie your home's exterior together and help it stand out from others in the neighborhood, giving it the spotlight it deserves.
As I mentioned before, paint front door, trim and shutters. This inexpensive improvement adds brightness to a home, whether you choose a bold color, a neutral tone or classic white. Look around at other homes and see which ones appear to have the newest color and most appeal. Ask about this year's most popular colors in exterior home colors, trim colors and secondary colors.
Install a new door light fixture if yours is outdated and gives an old outdated look to the exterior. When a buyer notices the front entry and sees how appealing it is they will be excited to see the interior, also.
Update your house numbers. Make sure potential buyers and guests can find your home. If the numbers have faded or need an update, replace them. If choosing a metallic finish, make sure it matches the finish of your exterior light fixture(s).
3. Tend to your driveway and lawn.
Well-landscaped homes may sell for between 5.5% and 12.7% more than other similar homes and studies show it may also add up to 28 percent to your home's overall value.5
Place a border along your driveway or walkway made of brick, stone, pavers or another hardscape element to add visual interest to a plain driveway.
Maintain your green space. If you have grass, a well-maintained, green lawn makes your home look inviting and picturesque. However, in many parts of the country, water conservation is becoming more important. Xeriscaped landscapes incorporate drought-tolerant vegetation that thrives in warm, dry climates, such as lavender, sage, wisteria and agave, with water-saving drip irrigation and mulch. Xeriscaping has a cost savings of 36 cents per square foot annually through reduced irrigation and maintenance costs.3 Additionally, these landscapes are virtually maintenance free, which makes it an attractive option for busy buyers.
Include trees and shrubs to create texture and add interest to your landscape. Planting a few types of trees and shrubs of varying heights, widths and flowering times boosts your home's curb appeal year-round.
4. Make it feel inviting.
It's no secret that emotions play a role in a person's decision to purchase a home. Stage the outside of your home to evoke warm feelings.
Stage your porch. If you have a front porch, make it feel more inviting by including seating, such as a chair or loveseat, an outdoor rug and a small table. If space is an issue, incorporate small decorative touches, such as a festive wreath or a nice potted plant. Step back and take in the overall look of the home. Maybe you will want to add a flower box, or purchase nice planters and containers for around the front entry, front steps or porch area. Seasonal flowers can add a bold bright touch to photos, too.
Choose flowers and plants that bloom at different times of the year for year-round appeal. For example, bulbs not only bloom all spring, they also multiply and come up every year. Perennials often flower for most of the year and will prevent you from having to replant them every year.
If you don't have a green thumb, choose low maintenance plants and flowers. Flowers such as lavender, rosemary, and zinnias are a few low-maintenance and drought-tolerant options.
5. Boost Your Online "Curb Appeal."
For those interested in selling please consider giving me a call and let's talk about recent sales in your neighborhood and the surrounding area. I have sold homes in the Glendale, Peoria, Sun City, Surprise and West Valley area for over 20 years and feel confident in marketing your home.
It's important to know the effect online curb appeal has on a home with marketing your home with our "Online Digital Marketing System". The better impression your home gives online, the more likely buyers will want to see it in person and drive past. Over 90% of home buyers start shopping online first! Here's how to get your home ready for its listing debut.
Stage your home. Staging shows your home in its best light and helps potential buyers picture themselves living there. Staging can be adding pieces to give brightness and appeal or it can be taking away and depersonalizing a space to make it a more universal home that many buyers would love to see.
Getting more photos showcasing your homes "curb appeal" and adding more marketing platforms helps you to have a successful sale bringing you a quick sale at top selling price. Would you like some help getting ideas for your home's online debut? I'm here to help you.
Include a short video tour of the home. Videos are becoming a popular way to give buyers a glimpse of the home before they step foot in it.
Before you start a home project, keep these four things in mind:
Why are you renovating? In other words, is your intention to update your home and get it show-ready or do you want to sell it for more money? Don't fall into the trap of undertaking major renovations that may not pay off when you sell. If your home is in good shape, a few inexpensive updates may be enough to make your home attractive to buyers.
The style of the neighborhood. Whenever you renovate your home, make sure the project fits with the style of the neighborhood and rules of the homeowner association. For example, an HOA may limit the choice and number of trees you can plant on your property. Similarly, a tall hedge border may not fit in in a neighborhood of low, picket fences.
Permits. If you're planning an extensive exterior renovation, you may need a permit from your municipality or other authority.
Budget. A budget keeps your project's costs and scope in check. Make a list of the improvements you'd like to make, set a realistic budget and stick to it. If you'd like advice on improvements you can make to boost your home's curb appeal, give us a call.
Are you thinking of boosting your home's curb appeal or renovating your home before you list? Do you want help making your home more appealing to potential buyers online and in-person? Give us a call and we'll help you present your home in its best light.
Peggy Elias – HomeSmart REALTOR® 602-422-5444.
Sources: 1. Remodeling, 2016 Cost vs Value Report
Realtor Mag, September 22, 2016
REALTOR.com
Houzz, Houzz & Home-U.S., June 2016
Houselogic.com